Benefit from free travel with the United MileagePlus Club Card. The card comes with a 50,000-mile bonus, which is enough for a one-way ticket to Amsterdam (to get to Europe on United for free you need 30K MileagePlus® miles). If in addition to the bonus you collect 10K miles, you can cover a round-trip flight.
How to get to the city center
The easiest way to get from the airport to the city center is by taxi. But this 20-minute ride costs a fortune–about 40–60 euros per trip. The more affordable way (about 5 euros), which is just as fast, is to get to the Centraal Station by train. You can buy a ticket directly in the baggage waiting room via the yellow ticket machine or at the ticket office.
How to move around the city
Amsterdam is a small city, best explored by walking or riding a bike.
If you want to feel like a Dutch, spend a few hours on two wheels. Rent a bike, and note that it's best to cycle in a less crowded area such as Vondelpark, as the traffic is very intense in the city center. And the Dutch are notorious for breaking traffic laws.
---
Cycle safely!
Do not forget the rules of the road: always stay in your lane and give hand signals before turning.
---
If you aren't much into pedaling and don't have time for a leisurely walk,  you can hop on the tram, Amsterdam's main means of public transportation. The price of one trip is 2.90 euros (valid for 1 hour), which is quite expensive. We recommend instead getting a 24-hour ticket, which is far cheaper if you plan to be riding for several hours (7.50 euros).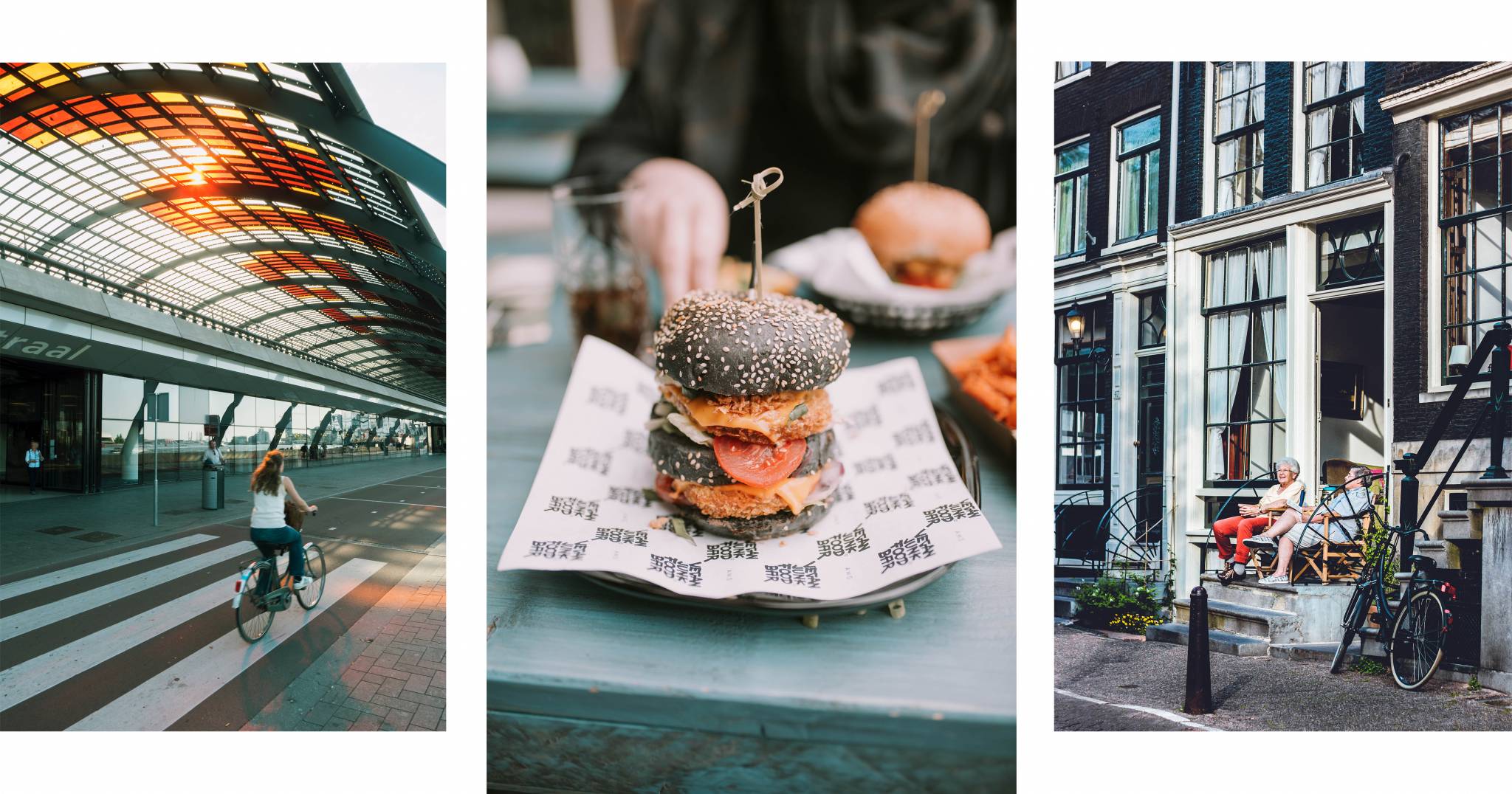 What to do and see
   Take a multilingual canal cruise
Explore Amsterdam by boat to get a new perspective of the city. Glide along the water, glimpsing famous canal houses with cute gabled facades and floating houses scattered everywhere.
   Explore Jordaan, De Pijp, and Oud Zuid districts
Rent a bike or just walk from the Centraal Station to one of our favorite Amsterdam districts–charming Jordaan, De Pijp, or Oud Zuid. Locals and tourists alike love these areas for their narrow flower-lined streets, plentiful concept stores, and local eateries.
   Visit a museum
Visiting museums can be time consuming. But if you are an art or history lover, visiting one of the Amsterdam museums—Rijksmuseum, Van Gogh Museum, or Stedelijk— may be the perfect way to spend your short stay. In all of these museums, you can  take in world famous pieces of art.
   Take a ferry to EYE Filmmuseum
Take a swift 3-minute ride on a ferry to the futuristic white building on the other bank of Centraal Station. Under the angular roof you'll find a museum, exhibition spaces, a cinema, and an iconic cafe with a view of the IJ river.
   Visit Bloemenmarkt, the floating flower market
Bloemenmarkt, a floating flower market open year round, is a truly colorful spot in Amsterdam. Here you can find plants, cut flowers, tulip bulbs in travel-ready packets, and souvenirs. The ceilings are nicely decorated with dried flowers and every corner is like a small floral oasis.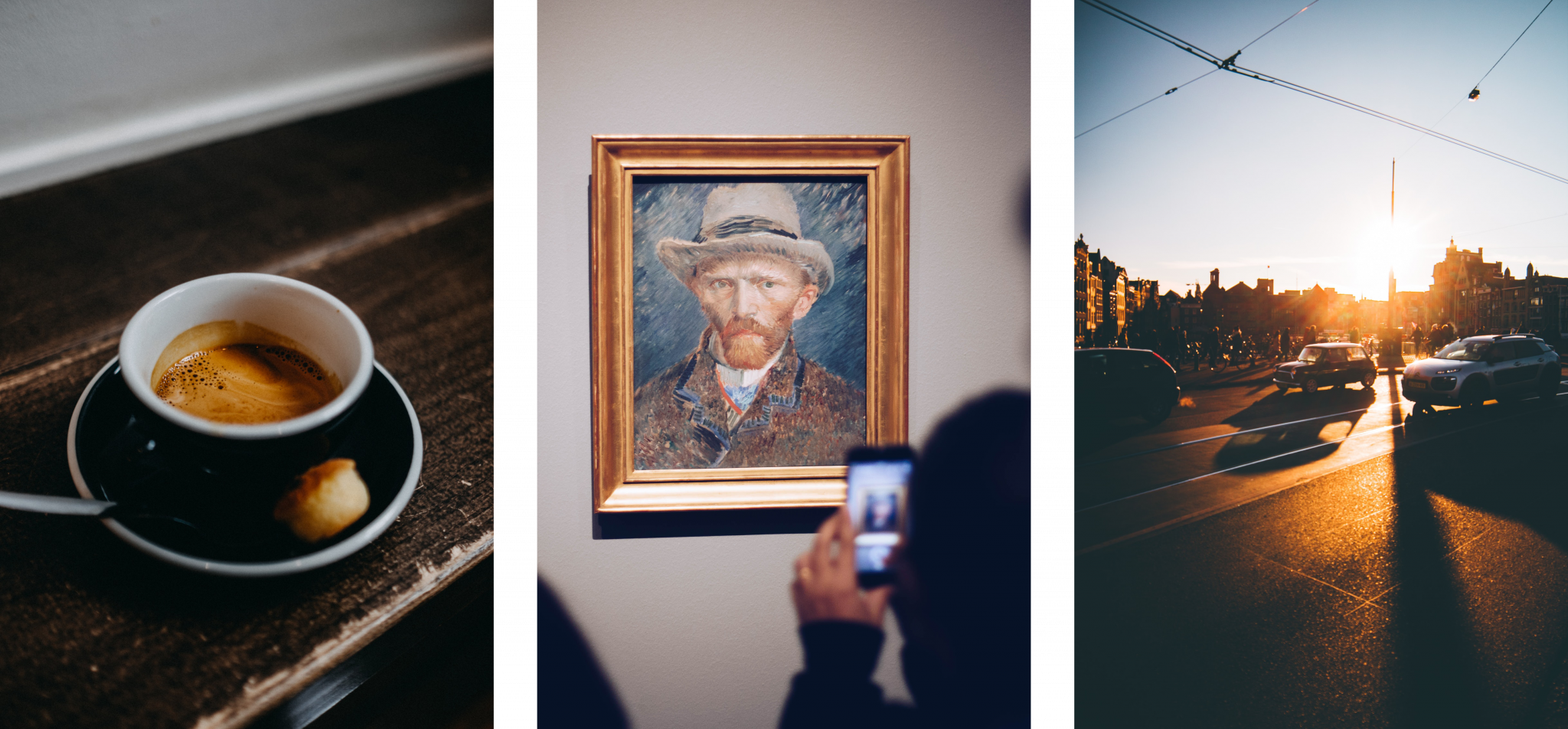 Where to dine and drink coffee
---
Disclaimer:  
The city's dining scene is overloaded with eateries and cafes, and it's worth writing a separate article about the most inviting venues. Here I will focus exclusively on the spots that are most offbeat and unique, while still offering very tasty fare!
---
   Foodhallen
First, I recommend Foodhallen–an indoor market and culinary melting pot. You'll find dozens of food stalls offering dishes of different cuisines. It's a lively spot with a lot of people dining and talking.
   SLA
Try to include into your short trip around the city the SLA–an organic salad bar with a focus on healthy food. There you can make a huge salad with any toppings you desire. Vegan options are available.
   Bakers & Roasters
For a hearty breakfast, brunch, or lunch head to Bakers & Roasters. This spot is very popular among locals and it's not uncommon to have to wait in line to get there. On the menu you'll find fresh-baked desserts, salads, sandwiches, juices, smoothies and quality coffee–everything is mouthwatering and made with love.
   Scandinavian Embassy, Bocca, Lot 61
And now a few words about coffee. Once when I was planning my trip to Amsterdam, I asked my friend to make a list of the best coffee spots in the city so we could visit them all and select the top three. The winners are Scandinavian Embassy, Bocca, and Lot 61, and I strongly recommend you trying their specialty coffee. I swear you'll love it.
When you travel, bring a credit card that earns you rewards for dining out. The best cards that come without a foreign transaction fee are the Uber Visa card from Barclays (nets you 4% cash back on dining) and the Chase Sapphire Reserve® card (earns you a generous 3X points on eligible purchases).
The bottom line
If you follow our advice about what to do and where to dine in Amsterdam if you have only part of a day to spend, you're sure to come away with pleasant memories of this adorable city. We have selected the most soulful and authentic places that are within a walking distance from Centraal Station so you can enjoy the views of the city without feeling rushed. We hope that someday Amsterdam will be your final, not interim, destination and you'll get to enjoy it in full.