Introduction
Earning points on the transferrable loyalty programs – Chase Ultimate Rewards, Citi ThankYou Points, Starwood Preferred Guest, and American Express Membership Rewards – is crucial for buying airline award tickets for the best price.
If you want to buy airfare for points, transferrable loyalty programs provide you with a high level of flexibility. First, you can search for an award ticket among multiple airline loyalty programs and choose the one with the best price for the particular ticket. Second, airlines tend to devalue their points from time to time – i.e., sometimes they make award tickets more expensive. Thus, keeping points in the transferrable loyalty program account (instead of the airline loyalty program) protects them from depreciation.
Here we will describe step-by-step instructions on how to transfer your Chase Ultimate Rewards points (hereafter – UR) to the airline loyalty programs. Conceptually, this process is very similar to the currency exchange process – you receive a certain number of airline points in exchange for given number of UR points. To learn how to do this, read our instructions below.
Step 1. Setting up your Chase account
Do you have a Chase online account? If yes, you can just skip this part and proceed to the next step.
If you do not have online access to a Chase credit card that earns you points, go to Chase.com and take a look at the right upper corner of the screen. You will see an authorization form that also includes the link labeled "Not enrolled? Sign up now". Take a look at the screenshot below to see the exact location of this link.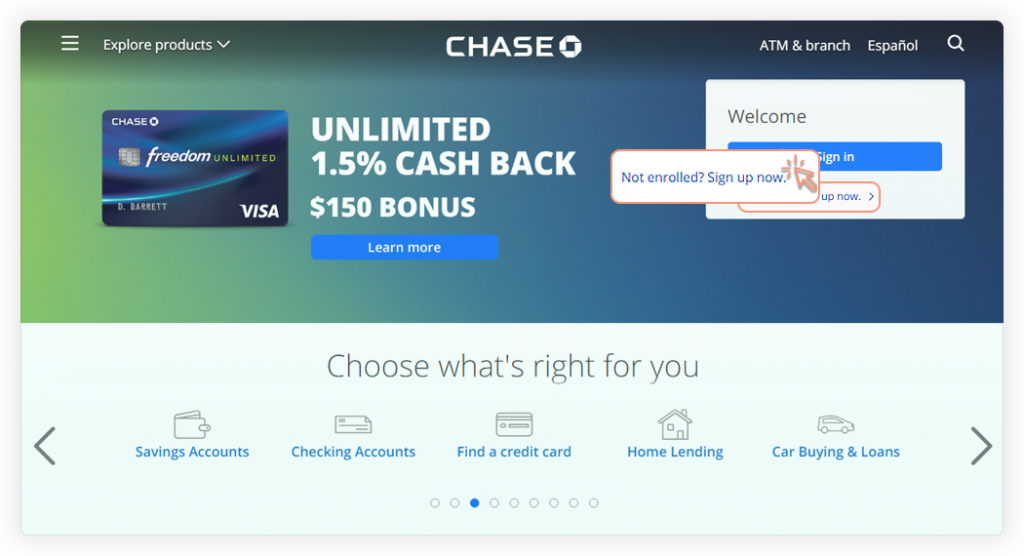 Click the link, and it will redirect you to the page where you enter your personal information and information about your credit card. Fill in the required fields and complete the registration. After that, you will have an access to your Chase credit card in a Chase online account. This is what the registration form looks like.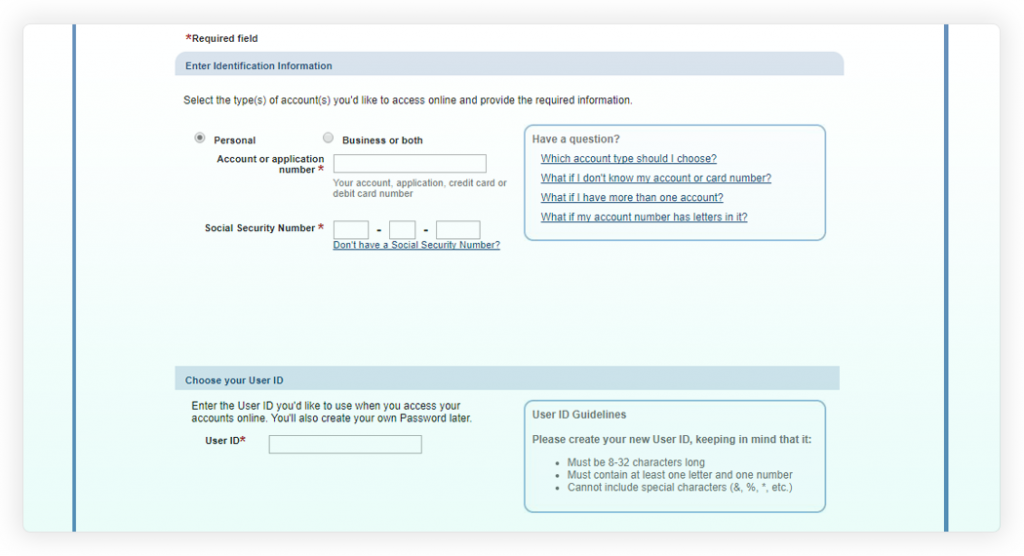 Step 2. Register in the airline loyalty programs
The table below lists the airline programs that are eligible for UR points transfer. Chase points are transferred at a 1 to 1 rate to all airline loyalty programs (i.e., one UR point is equal to one airline loyalty program point). Note that points transfer to some programs might take a while; we therefore suggest that you look for an award ticket in advance of your trip.
| | | |
| --- | --- | --- |
| Loyalty program (airline) | Transfer Rate | Transfer Time |
| Flying Blue (Air France/KLM) | 1:1 | Immediately |
| Executive Club (British Airways) | 1:1 | Immediately |
| Skypass (Korean Air) | 1:1 | Immediately |
| Krisflyer (Singapore Airlines) | 1:1 | 12-24 hours |
| Rapid Rewards (Southwest) | 1:1 | Immediately |
| MileagePlus (United) | 1:1 | Immediately |
| Flying Club (Virgin Atlantic) | 1:1 | Immediately |

Although you may never transfer UR points to one of the airline programs listed above, we suggest that you register in every airline loyalty program eligible for transfer of UR points for greater flexibility; it is a free and easy process.
Step 3. Transfer points to the airline
As soon as you find an award ticket, check whether you have enough UR points on your account. To do so, log in to your Chase account online and go to the "Accounts" section in the main menu. You will see the current balance you have on all your Chase credit cards, and at the very end of the "Account" page, the amount of UR points on your account will be displayed. See the screenshot below to understand how to find the number of points in your account.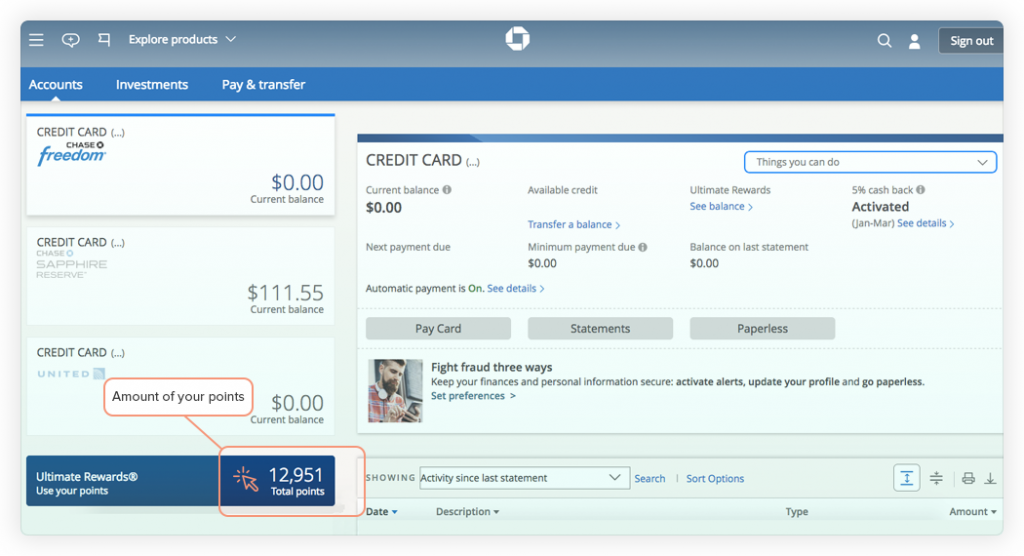 As soon as you are sure that you have enough points to buy an award ticket, go to the main screen of your Chase account and select "Use points" in the main menu. You will see a dropdown menu where you have to click on the "Transfer to Travel Partners" to proceed.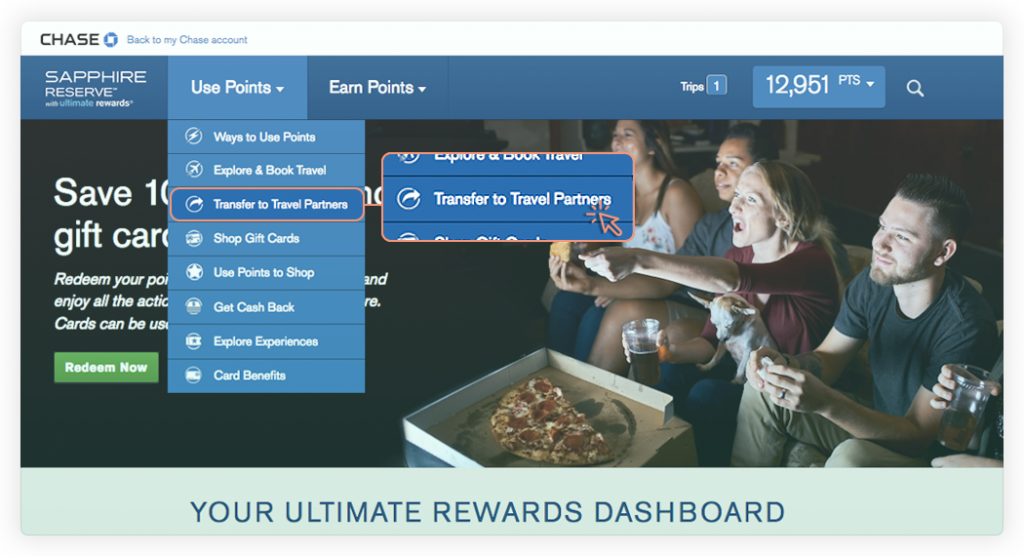 The system will follow you to the list of Chase travel transfer partners. Find the airline you want to transfer points to and click the "Transfer points" button next to it.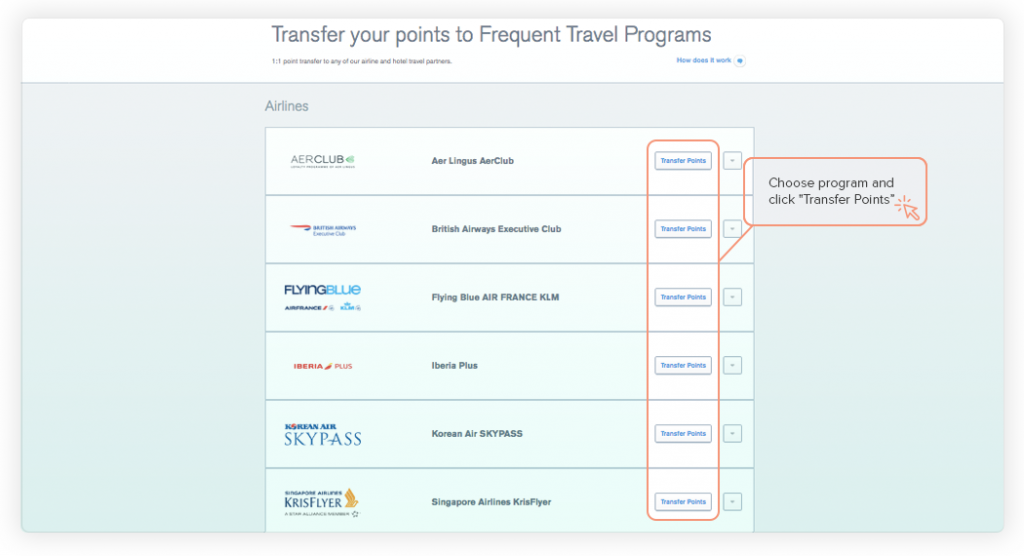 After you press "Transfer points", the system will redirect you to the form where you indicate recipient of the points (i.e., ID or the member's airline account number to which you want to transfer points), and the number of points to be transferred. Check whether you have provided the correct data, then confirm and submit the points transfer request. The points will appear on your airline loyalty program in just couple of minutes.